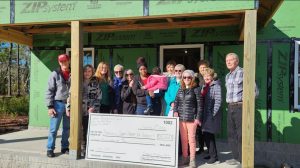 Brunswick County Habitat for Humanity (BCHFH) and Southport Presbyterian Church (SPC) announced today that , NC. This generous gift will offset $25,000 worth of costs incurred by BCHFH for the building of one of their newest partner family homes in the Sea Pines subdivision of Southport, NC.
"Since 1976, Habitat's work has been built on a foundation of faith. As a Christian Ministry, we have a long history of partnering with local churches to deliver housing to the community. Churches often provide lunches to our construction sites, volunteers to build, mentors, prayer, and spiritual support to families in the program," said Carlo Montagano, Habitat's Executive Director. "We are very blessed at the commitment and generosity of SPC, and hope to work with other churches in the county as well."
All who desire to be a part of Habitat work are welcome, regardless of religious preference or background. Habitat also has a policy of building with people in need regardless of race or religion.
"Being a Habitat House Sponsor is a wonderful opportunity to partner with our community while fulfilling part of Southport Presbyterian Church's (SPC) mission, which commits us to care for our neighbors and act as faithful stewards of God's abundance," said Laura Cacchione, a member of SPC's Mission Ministry.  "One of the guiding principles and values of our church is to serve others with humility, compassion and justice, so this project enables us to carry out our mission and support our values."
About Southport Presbyterian Church
Our vision is to be an accepting spiritual home for all, actively glorifying God, sharing in the love of Jesus Christ and witnessing to the power of the Holy Spirit.